The following is a letter to the community from the Stuart Board of Trustees announcing the appointment of Stuart's new Head of School, effective July 1, 2022.
Dear Stuart Community,
On behalf of the Board of Trustees, it is with great excitement that we share that Ms. Julia Breen Wall was unanimously approved by the Board of Trustees to serve as Stuart's eighth Head of School upon the retirement of Dr. Patty L. Fagin in June 2022. With nearly 20 years experience as an independent school educator and administrator in schools for girls, Julia distinguished herself as a mission-aligned candidate for Stuart's next Head of School. The qualities that set Julia apart in meetings with all constituent groups were her ease at making connections with our community, her experience leading in a Catholic, all-girls institution, and her commitment to both our Sacred Heart mission and work in diversity, equity and inclusion. The feedback provided to the Search Committee was overwhelmingly in support of Julia.
Julia comes to Stuart from Kent Place School, a preschool–Grade 12 independent school for girls in Summit, New Jersey, where she serves as Assistant Head of School for Enrollment and Strategy. Her responsibilities include enrollment and financial-aid management; communication and brand strategy; schoolwide strategic planning leadership; diversity, equity, and inclusion work; pandemic/crisis-operations response; and ethics, leadership, and summer programming.
During her decade at Kent Place, she led the school to its strongest enrollment profile in its history through strategic market research and rebranding efforts that have "demystified" the all-girls experience, widened its outreach, and strengthened its reputation. It is through this work that Kent Place constituents now articulate a clearer and prouder voice when expressing their school's identity, mission, and vision.
Her leadership and strategic oversight have extended to the Communications Office, the Ethics Institute, the Girls' Leadership Institute, and all summer and extended-day programming. Most notably, Julia led a yearlong strategic planning process that resulted in a new mission statement and an exciting road map for the school's future: "Empower Girls. Advance the World." This work required disciplined data analysis, strategic prioritization, and fierce consensus-building among a variety of constituents.
Julia began her educational career as an English teacher and advisor at Preston High School, a Catholic independent girls' school in Bronx, New York. She witnessed firsthand the power of a diverse and inclusive girls' school community in which students' myriad backgrounds, experiences, and interests enriched classroom discussions and extended opportunities for growth. Since then, she has been a dedicated advocate for the empowerment of girls and women in all spaces.
Julia holds a B.A. in English from Loyola University and an M.S.Ed in school leadership from the University of Pennsylvania. As a product of Catholic school education in Oakland, California, where she grew up, it was at Loyola that Julia deepened her understanding and appreciation of the value of faith and service. The intersection of her Catholic faith and her dedication to supporting each student's intellectual curiosity has been her anchor and her compass throughout her life and her career. She is confident this will guide her in her role as Stuart's Head of School.
With Sacred Heart Goal 4, "building of community as a Christian value," a vital pillar of the transition process, the Board of Trustees and Julia have prioritized building connections and becoming familiar with the Stuart community over the next eight months. As such, a New Head of School Transition Committee will be announced to develop strategic initiatives for Julia to work with Dr. Patty L. Fagin, the administration, faculty, and staff and conduct focus groups with all constituent groups prior to the beginning of her tenure on July 1, 2022. In the meantime, we invite you to get to know Julia in the letter to our community below.
We would like to thank the Stuart community for their support and engagement during this historic moment for our school. A detailed history of this process can be found on Stuart's website for those who wish to review.
We are blessed beyond measure to have found such an exceptional educator to lead our school into the future.
With gratitude,

Cheryl A. Lagay, Esq. P'21
Chair, Board of Trustees

Emily Firmenich P'23, '26
Chair, Head of School Search Committee
Head of School Search Committee
Jennifer Dias '12 (Alumna)
Kejing Embleton P'26 (MS Parent)
Emily Firmenich P'23, '26 (Search Committee Chair, Trustee, MS & US Parent)
Cheryl A. Lagay, Esq. P'21 (Board Chair, Past Parent)
Jen Landis '90 P'23 (Trustee, RSCJ Provincial Appointee, Alumna, US Parent, Former Faculty)
Bonnie Milecki P'28 (Director of National Center for Girls' Leadership, MS Parent)
Aileen O'Shea (LS Faculty, Past Parent)
Lakshmi Pakalapati P'26,'29 (MS Parent)
Samantha Ryan P'28, '31 (US Faculty, LS & MS Parent)
Marisa Simon P'23 (US Parent)
Josh Suggs P'32, '33, '35 (LS Parent)
Paul Teti P'29, '30 (Vice Chair of the Board, MS & LS Parent)
Woodney Wachter P'31 (Trustee, LS Parent)
Dear Stuart Community,

It is with great enthusiasm that I accept the invitation to become Head of School at Stuart Country Day School of the Sacred Heart. In truth, I have been hoping to write this letter to you since the day I first visited your beautiful campus.

As I came to know the Stuart community more intimately through rich conversations with students, faculty, staff, parents, alums, and partners, I immediately felt connected to its heart and soul. I have learned that Stuart's values have always been rooted in honoring the dignity of all while pursuing academic excellence in the Sacred Heart tradition, its most powerful compass in serving students. The students I met during my visit were bright, proud of their work, showed great strength of character, and loved their community.

I have been committed to advancing all-girls education my entire career as a teacher, an admissions director, the mother of two children in girls' schools, and a senior school leader in charge of strategic visioning. Girls learn best in an environment in which confidence, collaboration, and connectivity are nurtured. In fact, girls' schools are redefining what it means to be a leader — a mission that Stuart and other Sacred Heart schools have been embracing since their inception. Indeed, I am grateful to Dr. Patty Fagin and to those who came before her for their excellent work in advancing girls' leadership development as a hallmark of a Stuart education. It will always be Stuart's mandate to develop students who will lead spiritually, academically, morally, and ethically.

I look forward to learning more about each of you and your unique experiences at Stuart. I will dedicate a significant portion of my first year to providing opportunities to interact with you and hear your vision and your dreams for our school.

My family is also eager to meet all of you. Patrick and I and our children, Abby (16), Ronan (14), and Maeve (12), are ready to embrace our new community at Stuart Country Day School of the Sacred Heart.

With gratitude and excitement,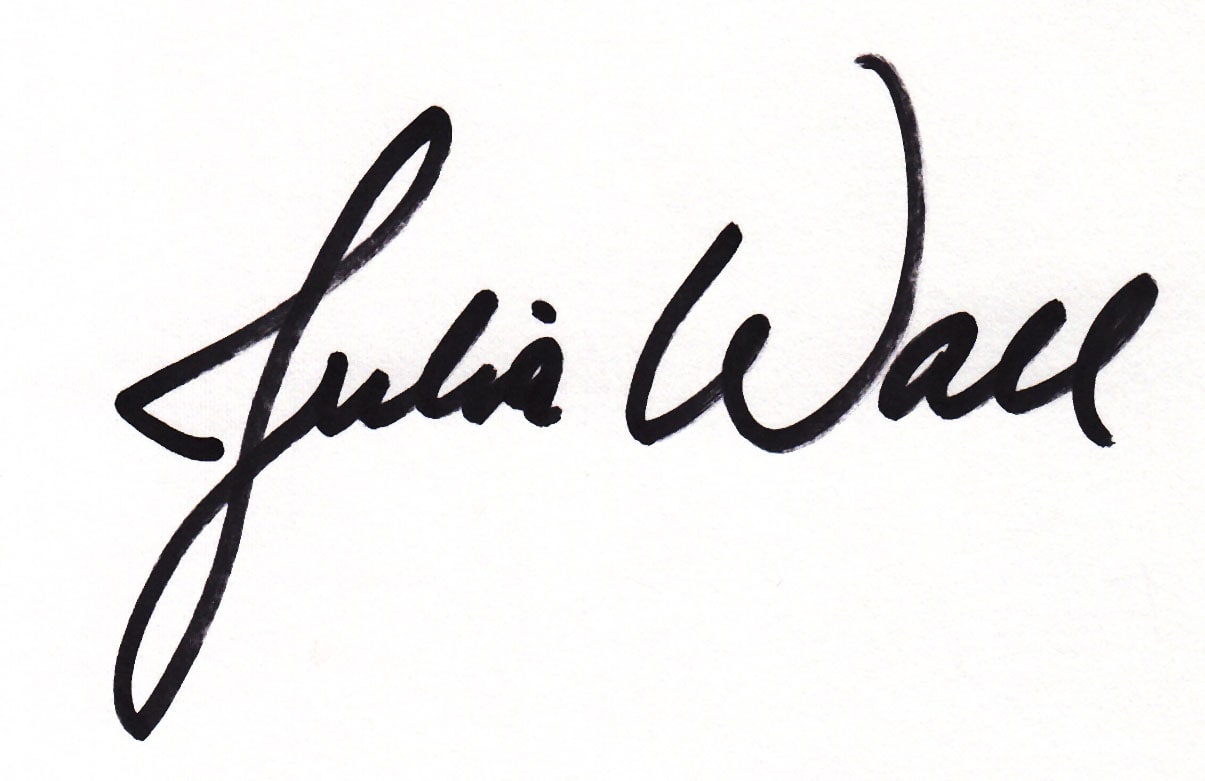 Julia Breen Wall