Over the next few months, you will see exciting changes around campus, in our marketing materials, and on a brand new website to reflect a campaign that authentically celebrates our girls. I am excited to present to you NOTHING STOPS A STUART GIRL.
The powerful statement NOTHING STOPS A STUART GIRL. has grit, shows resilience, and speaks to the future endeavors of our students beyond the walls of Stuart. It represents how our students feel about themselves and what our families want for their daughters. It supports how alumnae from all 58 years of Stuart feel about their preparation for life. Stuart girls are Renaissance women: they are exceptionally multi-talented, compassionate global citizens and are provided with a highly personalized academic experience to make courageous decisions in life. Stuart prepares young women to be UNSTOPPABLE, fierce, confident, and most importantly, to make a difference in the world.
The most amazing thing about NOTHING STOPS A STUART GIRL. is that the tagline came from one of our students, Lydia Benson '28. When asked to share a testimonial for Discovery Day this fall, Lydia summed up her thoughts by saying, "Nothing can stop a Stuart girl from achieving her goals." We listened to her words and felt they embodied everything about the Stuart experience.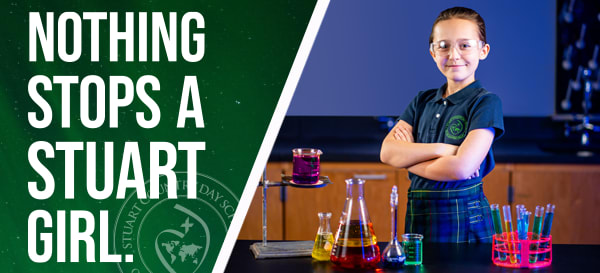 Lydia's influence on this campaign is just one of the many stories we will be sharing over the course of the brand refresh. The campaign officially kicked-off production in February with COVID-compliant photoshoots, showcasing the multifaceted Stuart experience. We will be introducing new campaign visuals through the spring and summer months, with a culmination of a new and more user-friendly website for the beginning of the 2021-2022 school year.
NOTHING STOPS A STUART GIRL. will be an ongoing effort by the Office of Communications and will feature teasers along the way. As I mentioned above, this campaign launched with our accepted students. Welcome packets will contain cards to complete the sentence, "I am unstoppable because ___." We would love for our Stuart families to fill in the blank of this statement. I encourage you to make this launch a community effort and participate in the excitement! Please share with us what makes you and your daughters feel unstoppable. Send photos, videos, testimonials or just a simple email to our Communications team, Hilary Morris and Monica Vogel, at news@stuartschool.org.
Click here for photos from the internal launch at school.